Design Lab - Graphic Guidelines
Image Quality and Resolution
All images (photos, stock graphics, etc) should be supplied in high resolution (300DPI) and be as large visually as possible. Low resolution or low quality images are not suitable for printing and should be avoided at all cost. Printing low quality images will result in an unsatisfactory print that will not look professional or meet our high print quality standards. See Example For Quality Comparison: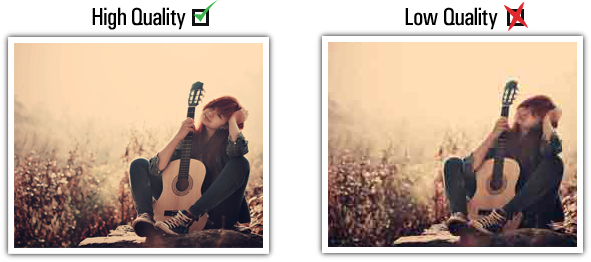 Fonts and Type
We have hundreds of fonts! If you have a particular font in mind, chances are good that we have it, however there are fonts that we may not have. If you require a font that must be purchased, you must first purchase and supply the font for our use. Just check with your representative if you have any questions.
Information and Verbiage
Be sure to supply us with any and all verbiage or written information that must be included in your design. This includes items such as band/album/movie names, titles, credits, track listings, recognitions, etc. If you have specific places on your design that you would like your information placed, just let us know and we will incorporate it accordingly. 
Don't Forget…
(!) Send only high resolution TIFF, JPEG, .PSD, .EPS, or .AI images.
Sending low-resolution or low-quality images may result in delays or unsatisfactory print quality. 

(!) Images taken from the internet (low resolution or appear small on your screen) are not recommended and will result in poor print quality. 
Need a Custom Logo?
Our team can create a unique one-of-a-kind logo specifically for you! Just ask a representative for details.
Resolution Matters
In printing, resolution is extremely important. Always be sure to use a high-quality camera set to the highest megapixel (resolution) setting possible.
We have been dedicated to providing first class products and services for every order for decades. Read more about our guarantee.
Get your order fast! Bison is one of the only Disc and Print Shops in the nation that can ship to your city the next day.