Frequently Asked Questions
If you'd like more information about our products, we encourage you to check out this list of frequently asked questions. In the event you have a question that is not listed below, please contact us. We are available by phone, email, and chat. We are committed to exceptional customer service and ready to answer your questions at any time.
Order Processing
Choose The Right Schedule For You
First consider when you want to receive your project and then count backwards to when you should start getting your art, audio or video to Bison considering the production time you have selected.
Bison offers 15, 12, 8, 5, 3, 1 and EVEN same day production schedules.
Bison Production Time is Calculated after the customer has approved all proofs. When proofs are approved that day is day zero.
There are also many options for shipping from Economy (Slow) all the way to FedEx Priority Overnight.
If you are picking up your project from the Bison facility, all pick ups are at 5:30PM Eastern Time, unless special arrangements have been made.
How do I order from Bison Disc?
If you'd like to place an order, visit the ORDER NOW page to get your price. To build your order just choose your product then select your options and click "Add to Cart." Once you add a product to the cart, you can continue shopping or move forward with the checkout process. Click "checkout" and then "submit". You'll receive an order confirmation email with all your order details and instructions on how to send us your content/artwork.
How much does shipping cost?
On each product page, we'll ask you to enter your zip code. You will see the estimated cost of various shipping options so you can select your preferred method. We make it easy for you to find a shipping option that works well with your budget and schedule. Final shipping amount will be calculated on the checkout page once you input your complete address.
How do I send you my files?
There are multiple ways you can send us your audio and video files. You can mail, email, or UPLOAD them. If you've ordered from us in the past, rest assured we'll have them on file.
How long will my order take?
After you place an order and we receive everything we need from you, the pre-production process will begin. We'll send you PDF proofs that you'll need to approve. Upon approval, you can expect a standard production time of approximately 12 business days to the ship date depending on your product. If you have selected one of our RUSH productions schedules, then your order will ship on time accordingly.
How do I reorder a project?
To reorder a project, just go to our site and click on the ORDER NOW  for your product. Under the Artwork section and Audio or Video files section, you will be able to click "this is a reorder" and input your previous order number. Reordering is easy!
Do you ship internationally?
Yes! If you have an international order, we'll provide you with an estimate of your shipping costs upfront. If there are any import related duties or taxes, they are your responsibility as Bison Disc is not liable for them.
Can you ship my order to different locations?
Yes, we can definitely ship to different locations. Just keep in mind that this may result in additional shipping costs.
What will happen to my artwork files?
Unless we receive your request in advance, we will not return your artwork files or masters. We keep these on file to make reorders easy! We do recommend that you also keep the originals or copies for your own records.
Does Bison Disc offer a guarantee?
We are so confident in the quality of our work over 20+ years that we offer a 100% product guarantee.
Graphics
What are the CYMK and RGB color modes?
CMYK (cyan is blue, magenta is red, yellow is yellow and k stands for black). These colors combine to create full color print. While CMYK is for printing, RGB is the color format for viewing orders on a monitor screen. We ask that you work in the CMYK color mode to avoid dullness and saturation.
What do you mean by 4/0 and 4/4?
The 4 represents the CMYK (full color) print format.
4/0 and 4/4 are terms in the printing industry that refer to single- or double-sided printing. 4/0 is printing 4 colors on one side of the paper and 0 colors on the other side. 4/4, is 4 colors printed on both sides of the paper.
How can I create artwork for my order?
We have a list of artwork specifications that we encourage you to follow before you place your order. Your artwork must be at least 300 dpi in a file format such as PDF, Adobe Photoshop, Adobe Illustrator, Adobe InDesign, EPS.
What are bleeds?
Bleed is when an image or background extends past the cut line. By providing this extra bit of art, you can eliminate the possibility of having a white edge once the piece is trimmed. Adding 1/2" of bleed on all sides is standard. The templates have guidelines set up so you can see exactly how much bleed you need to add. These are generally the outermost guides.
What is live area?
The live area ensures that all text and other essential elements will be inside of the cut lines and not cut off. These are generally the innermost guides.
Is a barcode required?
A barcode is to track sales and inventory. You will need a barcode if you plan to sell your discs online or in a retail environment. If you'd like, we can supply your barcode and place it in the artwork for $22.00. The average size of a barcode is 1.00" x .75". Click UPGRADES for more information.
Will the color of the printed discs and packaging match the PDF proofs?
You should expect slight color variation depending on your artwork. Because the print surfaces are different. If you require a color match, we suggest you order hard proofs.
Where do I find templates?
Please see the TEMPLATES tab on our home page. Or click TEMPLATE HELP for more information about templates. We encourage you to use our templates.
What if I need help with Templates?
Just need a little help? We offer design assistance for $38.00. This means we will add text or make small adjustments to the art you have provided. We can also fit your artwork to our templates.
What if I want Bison Disc to design my artwork?
If you need full graphic design, we can help with that. There is a $165.00 fee for these services. No matter what art help you need, we have a fabulous team of graphic artists that will work with you to create the perfect art for your project.
Discs
What is the difference between the disc finishes?
Bison Disc offers a number of different ways shoppers can customize the appearance of their discs.
Color Printing Directly on the Disc. This is our standard finish option, and the one most customers prefer. When you select this option, we will format and print your design on the disc.
Color Printing with High Gloss Coating. This is an optional upgrade to our standard option which adds a protective high-sheen coating over top of the printed design.
CD Printing That Looks and Feels Like a Vinyl Record. This upgrade makes the surface of your disc look and feel like a vinyl record. Using this option, we can also add your custom artwork to this disc finish, but there is slightly less empty space available in the template.
Black Printing on a Silver Disc. This option is very similar to the Color Printing option, but instead of allowing the design to cover the entire surface of the disc, the design only covers a portion of the surface. This allows the unprinted portion of the disc to retain its original silver reflective surface.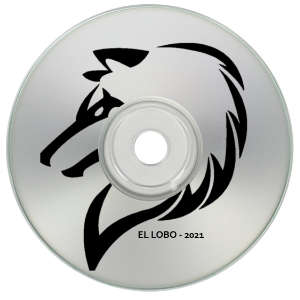 Packaging
What is the difference between a high gloss and uncoated finishes?
We offer our customers the choice between two different types of paper finishes when shopping for paper packaging products: high gloss, and uncoated.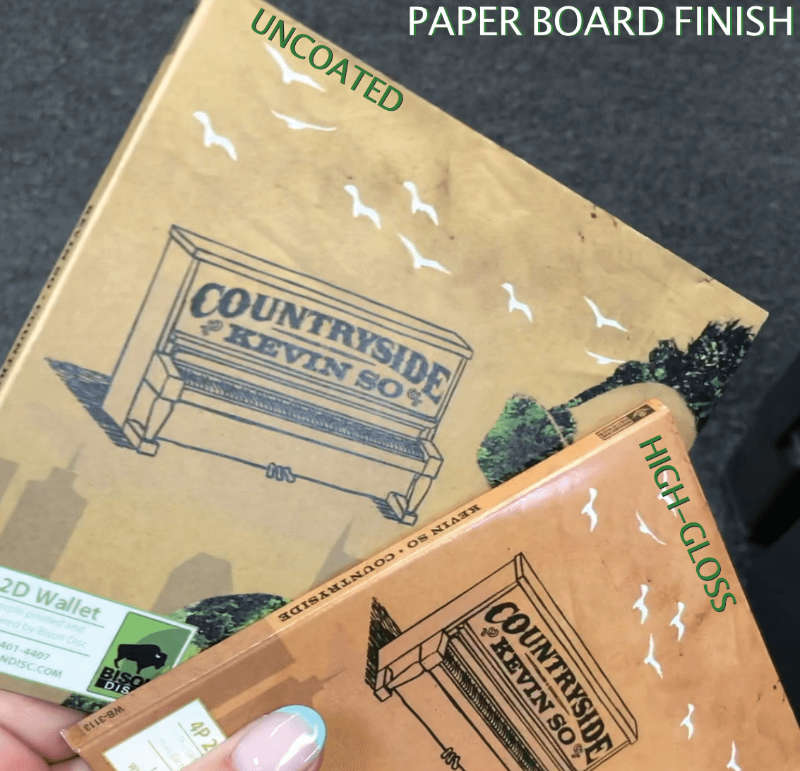 High gloss packaging is our most popular finish option. Packages made using this finish are treated with a thin protective finish that provide an extra layer of protection to paper packaging. High gloss finishes also create a smoother, sleeker texture on the finished product.
An uncoated finish, as the name implies, does not have any finish applied to the paper at all. This results in a more natural and organic look and feel. Some customers may prefer this option simply because of how well the packaging fits with their product branding or color scheme.
Uncoated paper is usually reserved/ordered for subduing the colors and for a more muted/very flat look. It is selected when a particular look or mood is trying to be achieved
It is important to note that there are noticeable differences in coloration between each type of packaging finish. Generally speaking, high gloss coating result in more saturated colors, whereas the colors on uncoated packaging are more faded.
Please feel free to contact us if you have any more questions about which finish to choose.
Audio
How much content can I fit on a CD?
Since a CD has room for 700 MBs or 80 minutes of audio, we recommend that your content doesn't exceed 79 minutes.
How do replication and duplication differ?
Replicated discs (CDs and DVDs) are manufactured from raw materials. A glass is master made from your original. Stampers then produce exact replica from the glass master via cutting-edge injection molding. So your audio or video is embedded. These are also known as pressed discs. Artwork is printed directly onto these discs. A minimum quantity of 300 is required for replication.
Duplicated discs are also known as burned discs. The process starts with our high-grade Verbatim recordable CD-R or DVD-R and they are duplicated with your audio or video. The artwork is also printed directly onto these discs. This is the manufacturing process for quantities less than 300 and sometimes recommended for higher quantities if you need a very fast production schedule.
How do I order replication?
To have your discs replicated instead of duplicated, simply leave a comment on your order that you want your discs replicated. No need to create a custom quote!
What formats do you prefer for audio discs?
We prefer that you send us audio files in .wav, .aif, .aiff or DDP at 44.1kHz and 16 bits. While we don't recommend MP3s, we will accept them. If you already have a master, please make sure it operates and sounds exactly how you want. The final product that we send to you will be an exact replica of the disc that you provide us.
Will you normalize audio?
We will not change your volume or compression levels unless you order Master Tune-Up or Volume EQ. Click UPGRADES for more information.
What is Audio Master Tune Up?
Audio mastering involves preparing your audio content for duplication or digital download. It can help your content feel cohesive and enhance its quality. Click UPGRADES for more information.
What is CD text?
CD text is information that is embedded in your CD master such as the artist names and song titles. This is commonly also known as metadata. It will display when the CD is played on equipment that has the capability to read it. Click UPGRADES for more information.
How can I ensure my CD information appears on iTunes?
The information that typically appears on iTunes is not embedded on the CD. Instead, it's read from Gracenote, which is an online database. You can add Gracenote Registration to your order for $18.00. Click UPGRADES for more information.
DVD
Which video file formats do you prefer?
For videos, we prefer these file formats: MOV or ISO. We will accept .MPEG and .mp4. If you already have a master, please make sure it operates and sounds exactly how you want. The final product that we send to you will be an exact replica of the disc that you provide us.
How much content does a DVD hold?
For a DVD-5 (single layer), 4.7Gb and DVD-9 (dual layer), 8.5Gb. Since video content can be compressed, the number of minutes varies.
Will my DVD include a menu and chapters?
If you created a menu and chapters, your DVD will include them as we'll replicate or duplicate the content you send us. If you need help, Bison Disc can do this authoring for you.
How are we different?
How Are You Different From Other Disc makers?
We're glad you asked! We not only offer custom, innovative packaging and same-day shipping, but our customer service and values are unique to our business as well. Click BISON DISC VS. DISC MAKERS for more information.
Our commitment to quality starts with our disc supplier: we print and duplicate exclusively on Verbatim Optical Media, the universally preferred medium for storing all types of files - music, video, digital images, data, and more. Verbatim is the No. 1 Optical Brand in the World, consistently providing the longest lasting and highest quality storage solutions.
You can also read more ABOUT US, check out our TESTIMONIALS, or learn about our PHILANTHROPIC efforts here.
If you have any questions or don't find the answer you are looking for please.
EMAIL - CHAT - CONTACT US
Ready to get started?
Request a quote over the phone or place an order online. We offer competitive quotes with no hidden costs.
Get A Quote
We have been dedicated to providing first class products and services for every order for decades. Read more about our guarantee.
Get your order fast! Bison is one of the only Disc and Print Shops in the nation that can ship to your city the next day.