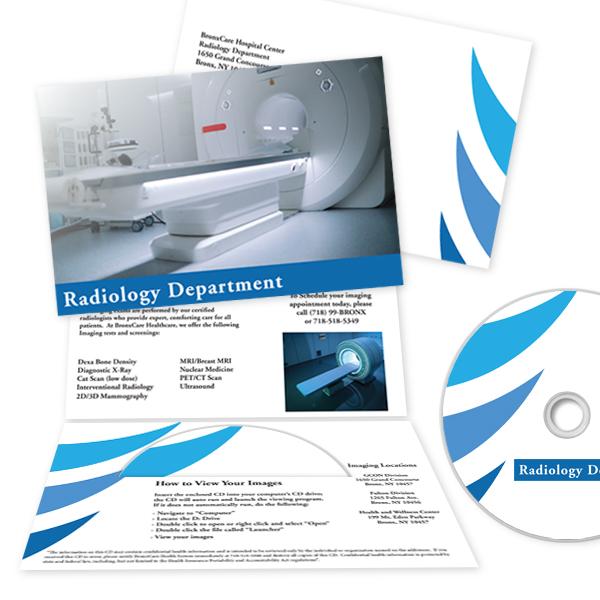 Our Discs in Mailers are durable, custom printed on paper board, and have slots to secure discs as well as space for inserts or booklets. Mailers are perfect for CD and DVD projects, with plenty of printable space. We offer 24-hour shipping as well as rush shipping options, and a variety of upgrades to perfect your packaging. 
Fit USPS automated mail equipment requirements
Available in 7-1/2 X 5" or 6X9" / vertical or horizontal 
Choose from CDs, DVDs, or Dual Layer DVDs 
4 and 6 panel options  
Paper board with Gloss or Matte finish option
Option for return post card 
Can be pre-sealed for mailing
Can be mailed across the country or even worldwide
Plenty of upgrade options like barcodes or tune-ups
24 hour shipping available
Minimum order quantity is only 25 discs
Mail Your Discs with Ease with Customized Mailers
Not to be confused with CD wallets, mailers are specifically designed to fit the USPS automated mail equipment requirements so you can save money on postage. Our high-quality mailers are available in 7-1/2 X 5 or 6X9 and printed in full color on durable paper board with slots to secure your discs. If you're looking to mail your discs across the country or even worldwide, our mailers are the ideal choice.
A Start to Finish Process: CD Mailers Fulfilled with Bison
At Bison Disc, we go a lot further: we will handle your mailing, too. We can:
Manufacture, duplicate your discs
Produce the packaging to your custom specifications and needs
Insert the disc and seal the package
Process your mailing list for NCOA (National Change of Address)
CASS (Coding Accuracy Support System) certify
Inkjet address your mailers
Qualify them for presorted automation with barcodes
And deliver them to the post office on your behalf to be shipped nationwide.
Direct mail is effective and here to stay. For the best in mailer and self-mailer options, Bison Disc is the professional company you can trust.
Direct Mail Packaging meets CDs
Each year, U.S. businesses spend approximately $50 billion in direct-mail advertising and remain a strong marketing option even in the peak of the digital age. Mailers are a great option for any direct mail campaign.
Direct mail not only works, it works well! According to recent studies, 6 out of 10 people who receive direct mail marketing materials go on to then make purchases with the businesses that sent them. Direct mail has 30 times the chance of receiving a response versus e-mail. When paired with any form of recorded material, direct mail is even more effective. According to a recent study of U.S. consumers by the Direct Marketing Association (DMA):
91% of all respondents who received a DVD/CD in the mail opened the mailer.
89% of respondents said they would spend more time or the same amount of time with a direct mail piece if it included a DVD/CD.
73% played the discs in their computers or televisions.
Leave it to our expert team to handle the creation and mailing of your mailers. You can depend on us to deliver them to the post office on your behalf and ship them nationwide so you can sit back, relax, and watch your direct mail efforts pay off.
All of our styles are printed in full color on durable paperboard, with multiple panel options. We even have special mailers that have a pop-up embedded inside! The common element to each mailer is the secure slot that holds your disc firmly in place during mailing. The mailers have four panels of print space: the front, the inside top, the inside bottom that has a slot to hold the disc, and the back panel. They are printed full color with gloss finish and individually sealed.
Back in 2007, the U.S. Postal Service introduced shape-based pricing, which meant that letter shapes that were compatible with their automated equipment qualified for approval under its Auto Letter Rate Mailer (ALRM) system. We were one of the first disc makers to design all of our mailers to match USPS specifications. Shape-based pricing works for First Class, as well as Standard Mail. So, when you order our self-mailers, you're sure to save money.
Available Upgrades & Features
Product Reviews
I can't say enough good things about my experience with Bison Disc. Their price point was well below some of the other quotes I got in the space, so I figured I'd be getting a more budget experience. That was not the case at all. Their service and support were prompt and helpful, the shipment was delivered in less than a week (relatively small order), and the quality and accuracy were absolutely top notch. Blown away by the product I received for the price. Well done Bison Disc!
Very pleased with the work done by Bison , and will be a repeat customer
Great to work with and the turnaround was incredible!
This was my first time using Bison Disc and I was thoroughly impressed with the entire process. Will, Sandi, and Bonnie were extremely helpful and nice. Any questions or concerns I had they answered in a timely manner and kept me updated until my shipment arrived. The CDs I received were exactly what I wanted!! I am beyond thrilled with the service and products I received and I will definitely be using Bison Disc for any other future projects.
Will was really helpful and the product is awesome.