Bison Supplied UPC Bar Code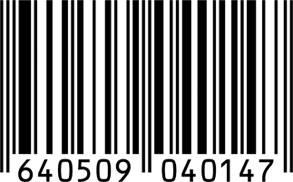 For only $22.00, Bison Disc will supply you with a unique UPC/Bar Code for your CD or DVD title. A UPC/Bar Code gives your discs a professional look and enables a distributor or retailer's inventory system to track your sales.
Barcodes are required if you plan to sell you discs online or in a retail environment
The average size of a UPC/Bar Code is 1.00" x 0.75"
UPC/Bar Codes can be printed on most discs and packaging

Why We Recommend UPC Bar Codes
Adding UPC/Bar Codes to your product packaging can have a huge impact on your ability to market, distribute, and sell your discs. Most online and in-person vendors require each product to have a scannable barcode and a Universal Product Code (UPC) in order to list it in their stores. Adding a barcode to your packaging not only makes your discs appear more professional, but it also makes it easier for you to track your sales.
Getting Started With UPC/Bar Codes
Barcodes are easy to add to any artwork template. After placing an order containing a UPC/Bar Code upgrade, you must set aside some space on your design for the UPC/Bar Code. Generally, we advice placing a 1.00"w x 0.75"h white rectangle on the back cover of your packaging design. During printing, we will make sure to place the UPC/Bar Code in the white rectangle.
Need Some Help?
If you need help designing your artwork or packaging, we offer design assistance for $38.00.  Please feel free to CONTACT US at any time during your order. No matter what art help you need, we have a fabulous team of graphic artists that will work with you to create the perfect art for your project. 
We have been dedicated to providing first class products and services for every order for decades. Read more about our guarantee.
Get your order fast! Bison is one of the only Disc and Print Shops in the nation that can ship to your city the next day.