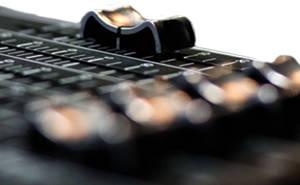 If you have already put your master together, we can provide the volume equalization services. This is an additional $48.00 and we will check the volume of every track and then equalize the volume to the industry standard. This way every track has the same volume the same when you play it.
A Uniform Listening Experience
If parts of your audio are being lost under other layers in your track, frequency equalization (also known as EQ) will help. While other mastering techniques like compression or loudness matching fix the overall mix's unevenness, EQ is great for fine tuning specific sounds in your audio. After a professional Volume EQ, your track will sound perfect no matter what kinds of speakers your listeners use.
How Volume EQ Works
Each type of instrument or sound falls into a specific frequency range. During EQ, we work with sounds all the way from the deep bass of 50hz up to the high pitched whistle of 10kHz. These frequencies can be tuned individually so each sound has an appropriate volume during playback. When we EQ your track, we make sure every frequency is in perfect balance so your listeners can enjoy a premium listening experience.
We have been dedicated to providing first class products and services for every order for decades. Read more about our guarantee.
Get your order fast! Bison is one of the only Disc and Print Shops in the nation that can ship to your city the next day.