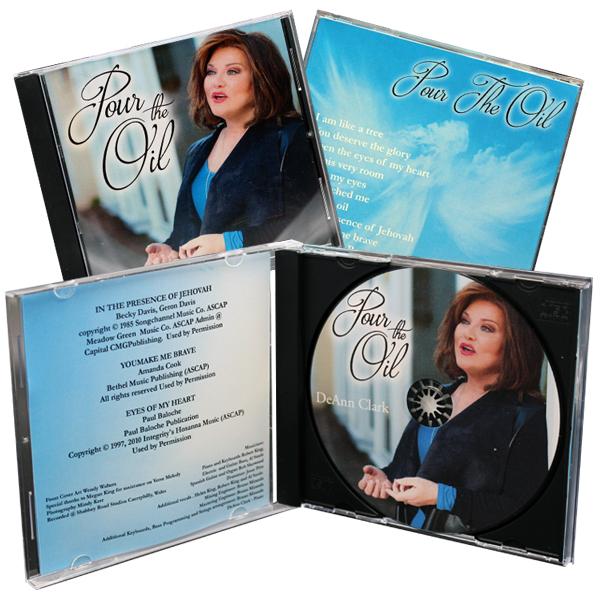 Jewel Cases are considered the industry standard for packaging discs. Our lightweight but durable jewel cases will protect your discs from wear and tear and keep them safe for years to come. 
The hard plastic case was specifically designed to prevent dirt and scratches from harming the disc. With the extra protection, there is plenty of space for a booklet or insert. Our jewel cases come in clear or black trays, slim or standard sizing, and varying insert sizes.
Premium jewel case with black or clear tray
Full color inserts printed both sides from 2 to 28 pages
Tray cards printed full color 1 or both sides
Full color printing directly on your CDs
FREE proofs before we print
Audio duplicated onto your CDs
Fully assembled
Free shrink wrap (optional)
RUSH production available
Slim jewel case available
Minimum order quantity is only 25 discs
What does a jewel case look like?
A jewel case has two plastic halves that are hinged together like a book. One half has a tray that firmly holds the disc in place using plastic teeth to prevent the disc from moving. Our jewel cases can hold up to six discs, and we have varying insert options and paper booklets with multiple pages for more content, printed in full color.
History of the Jewel Case
The jewel case was a seismic change from the paperboard album cover and cellophane sheathing that housed the much larger LP (Long Playing) records that were standard in the music industry for decades.
The Jewel Case was designed by inventor, Peter Doodson, who named it the way he did for two reasons: like a perfect jewel, he thought it was the "virtually perfect" design, and because from certain angles, it picked up and reflected light the way a jewel does. Jewel Cases are still very popular because they are light-weight, sturdy and can be easily stored and displayed.
Available Upgrades & Features
Ready to get started?
Call 800-401-4407 and get your price or order on line. We offer competitive quotes with no hidden costs.
Order Now
Product Reviews
Thanks Will!
Will at Bison Disc was awesome! The email response back on questions was almost immediate. Everyone loved the discs. I would definitely use them again.
High Quality and Easy
We had a great experience working with Bison disc to print, and deliver our final product with a short timeline. They were easy to work with, attentive, and the process was smooth. We will definitely continue to bring our CD printing requests to Bison.
Thank you so much!
Excellent service, product, and delivery by the promised date! I worked with Will W. to design a CD, and he was extremely helpful and skilled. We came up with exactly what I was hoping for in a finished product.
I highly recommend Bison Disc
I highly recommend Bison Disc. Will helped me get my artwork dialed in with final proofs after normal business hours to meet my deadline. Bison printed and shipped my CDs in a flash. I had them in my hands within 48 hours of ordering. Very positive experience. I will go back to Bison every time.
I loved the finished product I received
I loved the finished product I received! They called me & messaged me through every step of the creating process to make sure everything came out exactly how I wanted it. I will definitely be a return customer for future projects.

If you would like to try a different packaging option, our digipaks have a plastic tray to securely hold your disc, but the rest of the packaging is made of a strong paper cardstock, fully printable.