Custom CD & DVD Sleeve Printing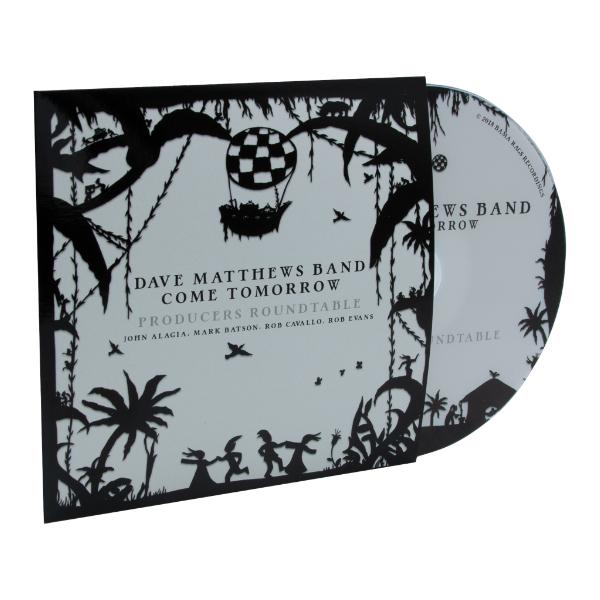 Lightweight, durable, and affordable. CD jackets are a popular packaging option sure to give your discs a professional, finished look.
Jackets printed full color both sides on high quality paperboard
FREE high gloss coating (optional)
FREE proofs before we print
Full color printing directly on your CDs
Audio or content duplicated onto your CDs (or blank)
CDs inserted into Jackets
Free shrink wrap (optional)
RUSH production available
24 hour shipping available
Jackets ONLY available
Available for DVDs
Minimum order quantity is only 25 discs
CD Jacket Printing
Simple, classic, and decidedly retro, Disc Jackets (also know as CD Sleeves) are a throw-back to the days when vinyl records reigned supreme. Despite the fact that today's preferred recording medium has undergone a major overhaul in terms of quality, size, and durability, Disc Jackets are still one of the best ways to bring a compact disc product to market. That's because Disc Jackets and Sleeves are lightweight, easy to ship and distribute, durable, and cost-effective to produce in bulk.
The process that goes into making this packaging for CDs and DVDs is largely the same as it was for vinyl in its heyday. Each of our jackets starts out as a single piece of heavy-duty 15-point paper board. Next, we print your design directly onto the paper in fabulous full color. Then we cut, fold, and customize the sleeve according to your specifications. Lastly, our customers have the choice of selecting between a matte or gloss coating for extra protection or aesthetic value. In the end, you're left holding one of our most popular and cost effective packages for musicians, corporations, filmmakers, and individuals alike.
Matte or Gloss Coating
Finished size of 5 x 5-1/8"
Full custom printing on both sides with your artwork
Minimum order quantity is only 25 discs
Bulk discounts
100% Product Guarantee
24 Hour Rush Service
If you're in a hurry, we can help! CD sleeves are available with our 24-hour rush service. Bison Disc is one of the few custom print shops that offers rush service like this.
About Bison Disc
We have over 20 years of experience, specializing in full-service DVD/CD duplication, DVD/CD replication and custom packaging solutions. We handle everything from small, quick-turnaround orders to high-volume projects for clients nationwide.
Whether you are a first-time disc buyer or a Fortune 500 company, you will receive our legendary attention to quality and customer service with each and every order. We wouldn't have it any other way!
Frequently Asked Questions
How do I submit my custom artwork and data for duplication?
After placing your order, please use our file upload page to provide all the artwork and data we need to print and duplicate your order.
Do you offer graphics design assistance for my artwork?
Yes! Simply select "Design Assistance" when building your order.
Where can I find templates and instructions for preparing my artwork?
Please visit our templates page to download guides for preparing your artwork.
I need more help
Please contact us with any additional questions! We're happy to help.
Available Upgrades & Features
Ready to get started?
Call 800-401-4407 and get your price or order on line. We offer competitive quotes with no hidden costs.
Order Now
Product Reviews
I have been a customer since March 2019. Every time I place an order they are quick to respond and make sure everything is right. My most recent order wasn't supposed to ready for 14 days but they got 'er done in 3 days. Very happy with this company. Would recommend 100% if you are looking into ordering CDs.
Order your CDs from these guys now! They're the best that I've worked with so far in my 5 year music career and they're affordable! I also liked that when I got a hold of them on the phone because I had screwed up on my order they fixed my mistake right away and were so patient! Oh and my CDs turned out exactly as I had hoped. I couldn't have asked for a better product!
I needed a custom packaging job for my CD (3 CDs and a 12 page booklet) and Anissa and Will were extremely helpful at helping me get this done. Quick turnaround time and at a very very reasonable price. Especially considering the high quality of the finished product. Can't recommend Bison Disc enough. Will absolutely use them for my future CDs. The best!
This experience was as great as it could have been. I would say it was effortless because whatever question I had, large or small, they were there to answer it. Each step along the way the company sent for my approval before going forward, making it a 10 experience. My order was fairly small and yet I was treated as though I had a huge order. Definitely the company to go to. Thank you again.
I needed only 100 CD's. The team members I dealt with were courteous and patient. The final product was submitted by Bison Disc for my approval prior to manufacture. Manufacturing time was quick. I liked the final product and so does everyone with whom I've shared the discs. I recommend Bison Disc as a professional quality producer of audio CD's.
Pages

$199 for 100
Need a little more packaging space to display your content or song titles? Our custom disc wallets have a secure disc slot in a bifold, featuring more panels and more printable space.