Audio Mastering Basics for the Budding Artist
Audio mastering ensures a track's peak sound quality when played through various playback systems and streaming services. It's crucial for delivering high-quality music to listeners worldwide.
In this article, we'll navigate the essential terms and key aspects of mastering music.
What is Music Mastering?
Mastering or music mastering is the final stage of music production. It's performed to bring tracks to ideal sonic qualities when played across devices.
Unlike mixing, mastering a track entails affecting the entire stereo mixdown – not individual instruments and vocals.
Mastering engineers use several techniques to shape audio tracks and address imperfections following the final mix.
Audio restoration, de-essing, compression, equalization, and compression are performed for stereo enhancements. These techniques clean and balance essential components like sound levels and spacing to improve the track's overall feel.
Types of Music Mastering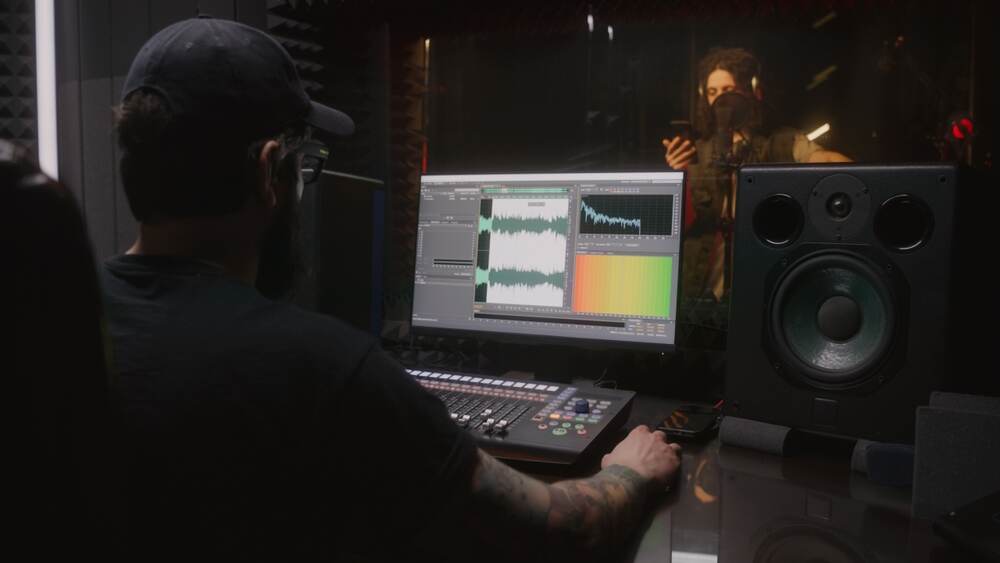 Technological advancements have resulted in the evolution of tools, formats, and resources for the mastering engineer.
Vinyl mastering is the traditional way. It involves transferring tape recordings to molds before any vinyl disc is reproduced in analog-driven days.
Now, engineers primarily work with WAV files which effectively surpass the physical limitations of vinyl formats. (Vinyl enthusiasts know that sound quality deteriorates as the needle moves nearer the center of the record.)
Digitization gave birth to two types of music mastering. Note that the tools, objectives, and skills involved with these types are the same. The kicker lies in the source material.
1. Stereo Mastering
Stereo mastering involves working with one stereo mix of the entire track. The mastering engineer must apply processing techniques and adjustment tools to the overall mix.
Musicians choose this approach when working with an already balanced mix. It's for artists satisfied with the final mix and would settle for subtle alterations to make a final master.
It's also cheaper, as professional mastering at studios is costly and time-consuming. So, producers and artists resort to stereo mastering to operate within tighter constraints.
2. Stem Mastering
Stem mastering involves working with the individual recordings of the musical instruments, vocals, and effects called stems. Stems allow the mastering engineer to adjust specific elements and bring out the best audio quality suitable for playback.
Artists dissatisfied with their final mixes tend to gravitate towards this method. It offers more flexibility in correcting and adjusting balance issues without compromising the track as a whole.
Depending on the number of stems, the mastering engineer can control sounds, effects, vocals, and dynamic ranges separately. It's ideal when dealing with singles laden with mixing imperfections.
A Brief Overview of the Mastering Process
Audio mastering is a complex craft incorporating several stages to produce optimum musical qualities. In general, it takes three steps and a mastering engineer's creativity and expertise.
1. Step 1: Understanding and Characterizing the Track
During this stage, engineers must digest the track or the entire album and capture their essence. The mastering engineer's discerning ears are instrumental in highlighting the tracks' key elements to fit their genre.
Most of the artist's styles and preferences are tackled during the mixing process. However, as the final production mesh, the mastering engineer must zero in on possible alterations to produce the best results.
2. Making Adjustments and Developing a Cohesive Sound
Bringing consistency and coherence to tracks are the most critical aspects of mastering. Here, the engineer applies techniques following the mix's analysis and characterization.
They use volume equalization to enhance tonal balance and ensure no specific frequencies are out of place.
Because loudness and sound levels are crucial, engineers employ dynamic range compression. As a rule of thumb, it's recommended that nothing exceeds zero on any level scale. If mastering for streaming platforms like YouTube or Spotify, the engineer would set the level at a -14 LUFS ceiling.
3. Finalizing the Digital Master
Finally, the mastered music needs rendering into the prescribed medium format. This step involves saving the master with various platforms and playback methods in mind. While finalizing, it's crucial to ensure compatibility and versatility. Here, the engineer optimizes the track's bit depth, dithering, and format conversion.
When done correctly, the master is ready for integration, streaming, and reproduction.
Releasing a Track?
Mastering tracks before their online, CD, or vinyl release is essential to produce clean and coherent content.
Finding a reliable partner for professionally duplicating and packaging your single or album is also best.
Bison Disc offers many products and services, including volume equalization, CD/DVD duplication, and more. Ready to get started? Order today.
We have been dedicated to providing first class products and services for every order for decades. Read more about our guarantee.
Get your order fast! Bison is one of the only Disc and Print Shops in the nation that can ship to your city the next day.