9 Crucial Things to Do Before Releasing Music
Breaking out as an indie or home recording artist requires creativity, a little luck, and much effort. The music industry is a battlefield; success comes to those who follow a winning release strategy. 
Even if this isn't your first rodeo, the process of releasing music isn't easy. We made a list of crucial things you must remember when releasing music independently. Use this as a guide to diligently work your way to the top. 
How to Release Music Like a Pro Using 9 Tips
Pro music marketers don't condone cutting corners. Fortunately, you don't need to hire an expert to do these things perfectly. Exerting extra effort can elevate your chances of becoming a rising star. 
The best way to release music is to follow the tips listed below. Learn and apply them to help your released music gain maximum exposure. 
Before releasing music, make sure you do these things:
1. Set SMART Goals
Pros know that setting specific and quantifiable goals makes making meaningful moves easier. Proper goal setting helps you visualize your results and the actions needed to reach them. 
Carefully map out your trail to victory by setting SMART goals before and after releasing music. SMART stands for:
Specific
Measurable
Attainable
Relevant
Timebound 
Here's an example of an applicable SMART goal. Grow (specific and measurable) your fanbase (relevant) by 20% (attainable) after the release date (timebound).
2. Set a Timeline
The next step is to identify when you need to start working on them. Your release plan must consider the tasks you must accomplish before and after releasing your music.
Independent artists often follow a two-month before-and-after timeline. They schedule the release date sometime in between. 
The month before release should be used for marketing campaigns, pre-save features, and blocking features. After the release, your moves should focus on engaging more fans and reaching your SMART goals.
3. Get a Distributor - Upload Your Music to Spotify
If you're starting with a modest fanbase, getting on board with Spotify is a no-brainer.
Releasing music on Spotify allows you to work with the hottest distributors on the market. Distributors like CD Baby can help with your licensing and distribution. They can also land your music on other streaming services like Apple Music.
Spotify distributors provide instant access to Spotify for Artists for their partner musicians.
4. Secure a Pre-Save Link
Spotify is saturated with over 11 million artists. Landing your track on a curated Spotify playlist is trickier than ever. 
That's why securing a pre-save link is vital. Your pre-save lets fans proactively save your unreleased music on their Spotify library. The algorithm automatically adds your track to your fans' playlists.
The pre-save will tell the algorithm listeners are consuming what you put out. When this happens, Spotify will organically help your song gain traction.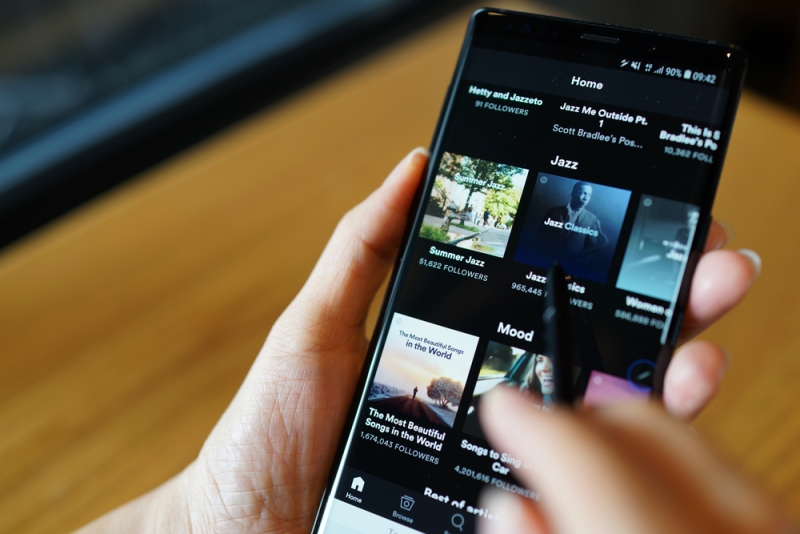 5. Build Social Media Presence
Social media is a blessing when releasing music independently. It helps you get your message out to your followers and engage with them.
Post videos and content relevant to your music to build anticipation. Give fans something to be excited about, such as teasers about your next release. Update your pre-saves and link them to exciting posts. 
6. Use Thematic Artworks or Imagery
The internet and media, in general, are primarily visual. Put your music up along with images and artwork that best represent you as a musician. 
Doing so allows you to create a gallery of campaign materials that'll make pitching to media outlets easier. Publishers, radios, and T.V. stations tend to host artists based on how their image resonates with particular niches. 
7. Send Out Press Releases
Gaining media attention and coverage of your release could boost your music's popularity. Write a press release and send it to your target media outlets.
You must start this process days or weeks before the release date. Include your pre-save link, so media outlets and blog sites get immediate notifications when your music drops. Send them the live link on release day. 
8. Get a Radio Station to Play You
Unlike big-name stars, emerging artists shouldn't shroud their music in mystery. Fans and potential listeners need to find your music sooner than later. People could listen to your tracks before they become music on Spotify.
Radio stations have niches and fan bases that can help your music reach a wider audience. As soon as your song hits the airwaves, you've already created an audience to stream it. 
9. Duplicate, duplicate
Discs aren't dead. Package your tunes into a music lover's memorabilia. You can partner with a professional, such as Bison Disc. We can help turn your E.P., album, or single into a piece of art. 
Duplicate CD/DVD versions of your tracks. Make customized cases with a fancy cover design to get better reception from radio stations and media outlets. 
Releasing Music Like a Pro
Follow these tips to launch your song to the top of the charts. If you're releasing a single soon, we can help. Get a quote today.
We have been dedicated to providing first class products and services for every order for decades. Read more about our guarantee.
Get your order fast! Bison is one of the only Disc and Print Shops in the nation that can ship to your city the next day.