What is the Difference between Direct Disc Printing and CD Labels?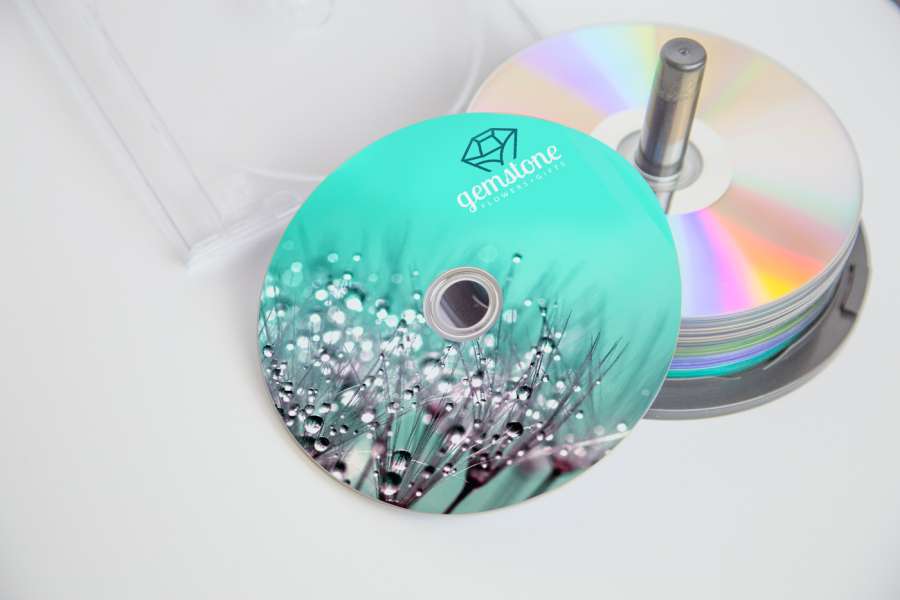 Pictured above, a DVD with Edgeless Direct Disc Printing (Not CD Labels)
Not sure if you want to order printed discs or just do-it-yourself with CD labels? Here we explain the difference between the Direct Disc Printing we do at Bison Disc compared to CD Labels you can stick on at home.
Print Quality & Lifespan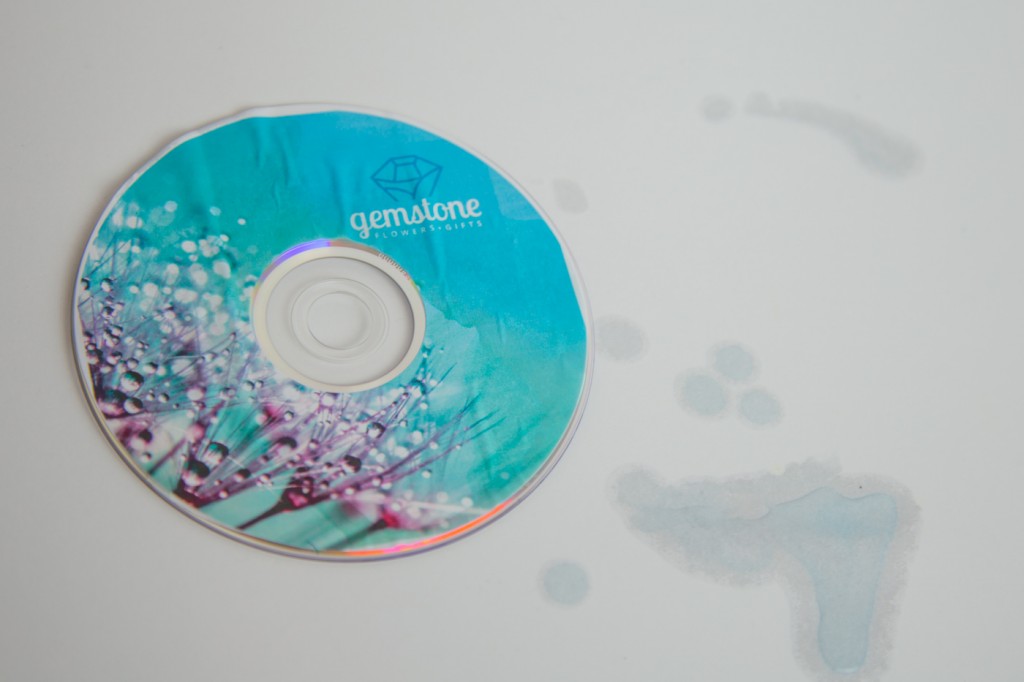 CD Label
At Bison Disc, we print full-color artwork directly onto your CDs or DVDs - there is no label used and no paper or adhesive involved in the process.
CDs & DVDs last 30-70 years - compared to a hard drive's lifespan of 4-8 years. If you take care of your disc's data, you might as well ensure the art on your disc is also future-proof. A label will fade over time and is damaged by scratches and water, while direct disc printing is scratch resistant, waterproof, and made to last.
Specifications:
| Criteria | Direct Disc Printing | CD Labels |
| --- | --- | --- |
| Fades over time in sun | no | yes |
| Need your own printer and ink? | no | yes |
| Can Jam in Your CD players | no | yes |
| Damaged by water | no | yes |
| Damaged by scratches | no | yes |
| Requires your labor | no | yes |
| General Cost per Disc | 0.88 each for 100 | 1.20 each for 100 |
| Rapid Duplication | yes | no/manual |
| Uses messy adhesives | no | yes |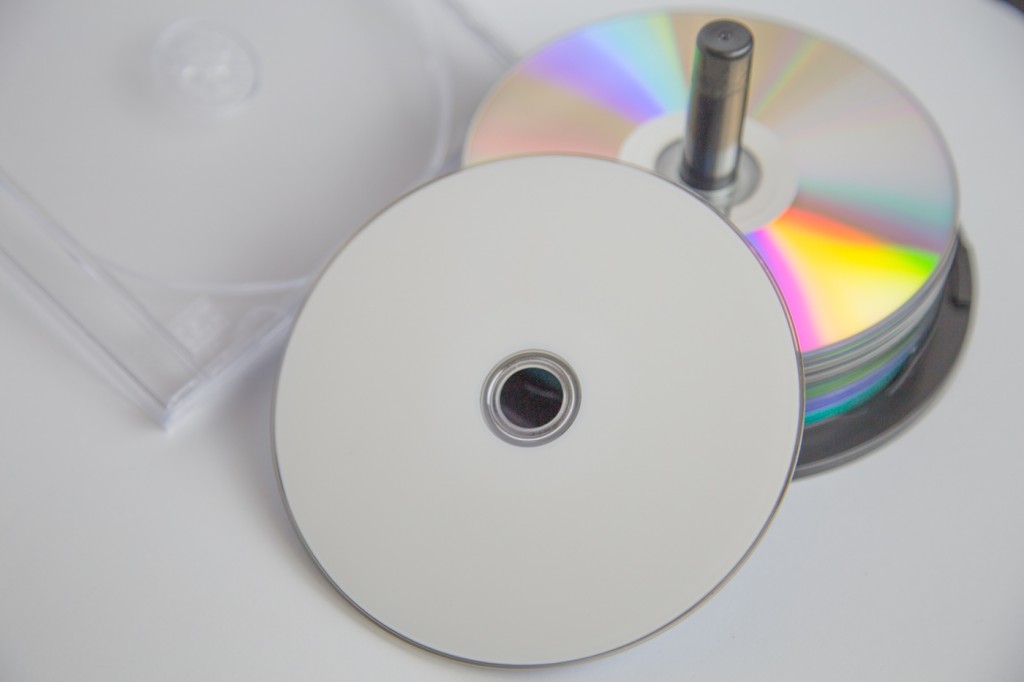 Edgeless printing
We also print edge-to-edge all the way to the center (pictured above), while labels leave a large area of space in the center completely bare. Plus, unlike your at-home printer, we never run out of ink.
Application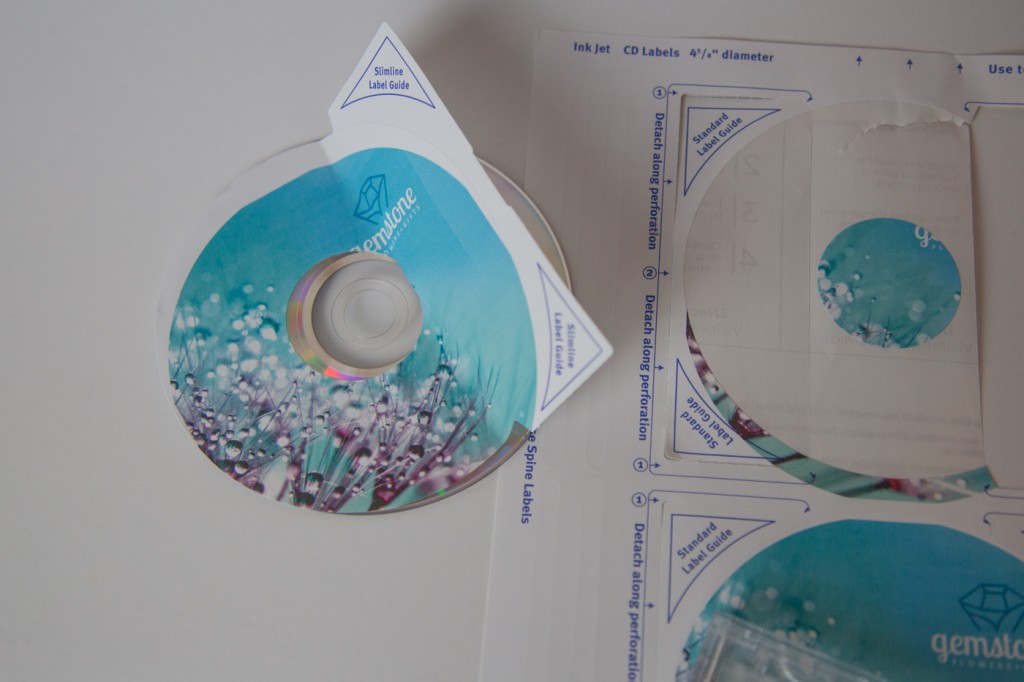 Applying a CD label to a disc is pretty tricky and often requires the additional cost of a label press if you want to do it right. If you're not careful, you can waste an entire disc as well as the printed label.
With Direct Disc Printing, we print directly on the disc first using a white flood of ink for the base. The ink is UV-cured for durability and finally printed with artwork. The result is a full-color, future-proof design that runs edge-to-edge.
Cost
If you're content doing labels at home on your own and you're only planning on making a handful of CDs, you may be fine with labels. However, it will soon cost you more to do it yourself as it would if you ordered discs. Here's a price breakdown:
100 Custom Printed Discs from Bison, each with data duplication
= .88 cents each
100 DIY CDs with Labels and Duplication 
$30 for the labels
~10 hours of labor applying labels and burning data at $8/hour /  = $104 for 100 discs 
= $1.20 each
Your labor increases through quantity, so after 100 discs it's no longer cost-effective to do this at home.
Creative Graphic Designers
You can send us your own artwork, but we also have expert designers to help you create your custom design for all your printed materials. Our 3d mockups are free.
Since we work with many types of businesses we understand the need to work within a tight budget, but we still want to meet the highest quality possible. We do our best to do both, and our testimonials reflect that:
"As an independent Artist and always on a shoe string budget. Bison was Point on and very Patient and Easy to work with. I Highly recommend Bison Disc! I will be using them again and again. " - Currie (via Bison Discs's Facebook)
Data duplication options
We also offer data duplication and replication.
Duplication - a recordable disc is burned with your content or movie onto high-grade Verbatim media. Disc duplication is best for small orders (less than 1,000 discs).
Replication - if you have a larger order, you may want to instead order disc replication. Replication starts with a glass master made from your original master. Your content is then embedded in the disc, creating an exact replica of the glass master. (To get your discs replicated with us, instead of duplicated, simply leave a comment on your order. No need to create a custom quote!)
In 20, years Bison has never had a reported issue with a duplicated disc's playability or quality.
If you're printing discs for a movie and you want to ensure that it is recorded on every disc flawlessly, let us help. Our burners can handle dozens of discs at once, while most homes have only one or two disc burners, making DIY CD labeling even more time-consuming.
"As an indie filmmaker, Bison is the only duplicator I will ever use." - Jeffrey (via Bison Discs's Facebook)
Short on time? We're fast. We can suit your emergency needs with our 24-hour ship products.
Packaging

If you print through us we can help you craft unique packaging for your discs.
We're one of the only stores that offer printing for Digipaks, folders with CD mounts, wallets, and multi-disc sets. All packaged discs from Bison Disc can arrive at your door shrink-wrapped, serialized, and ready for sale.
If you already know you want to use optical media for your backup solutions, save yourself the time and frustration of doing it yourself and let us print for you.
At Bison Disc, we've been printing CDs and DVDs for 20 years. We pride ourselves on our excellent customer service and ability to work on any project with any customer. We're happy to be the suppliers for musicians, authors, small businesses, and Fortune 500 companies.
We have been dedicated to providing first class products and services for every order for decades. Read more about our guarantee.
Get your order fast! Bison is one of the only Disc and Print Shops in the nation that can ship to your city the next day.